About the Company
Company Name
Cloco Inc.
Main Office
Shichi Bldg. 5F-A 2-10-15 Kasuga, Bunkyo-Ku, Tokyo, 112-0003, Japan
⇒MAP(Image)/MAP(Google)
TEL +81-3-4477-2500 / FAX +81-3-4477-2501
TEL +81-50-3159-4503 / FAX +81-50-3159-4504 (Information/ Help Desk)


Please make sure to dial the right number.

URL
www.clocoinc.com
President
Yasuichi Kishino
Founding Day
8 June 2015
Capital Fund
30,000,000 JPY
Business
・Offers Cloud Type PBX, ClocoCloudPBX
・Offers Cloud Type Call Center. CTI
・IP Devices Sales, MVNO Service
License
Notification
・Telecommunications Corporation A-27-14344
・Summary of the Amended Antique Dealings Law:No. 307711605250
・JAPiCO mark.
・Grandstream Solution Partner in USA.
Bank Accounts
Mitsubisi UFJ Bank(0005), Mitsui Sumitomo Bank(0009), Rakuten Bank(0036).
Details of the Business
Cloud PBX
Offers Corporate, Individual, Asterisk, current PBX, recognized Mobile Phone Extension, Pending Transfer, Group Incoming Call, and Location / Provider-free. Speedy response on each configuration management and increase or decrease in terminal use.
Call Center, CTI
Simple in-house IVR with multiple OPTIONS like CRM Linked Softphone, All Call Recording, etc. Real time monitoring depends on SV.
Device Sales, MVNO
Markets cloud PBX, terminals with cable connections, IP phone to mobile phone service and MVNO (Mobile Virtual Network Operator).
Merging of ClocoCloudPBX and Mobile CRM
ClocoCloudPBX's VoIP Technology as means of communication in business enterprises resulting in communication efficiency and substantial cost down on call charges. Cloco is both OPTION's practical application and advanced technology demonstrated by the merging of ClocoCloudPBX and Mobile CRM. Other companies have a surplus on customers, focus on the profit structure, plus, invest on ClocoCloudPBX and other services' new market.
Creation of Extension's New Market
With the coming of Cloud / SaaS period, rapid progress in IT applications in small to medium enterprises, current decline in communication devices market, large profits in Cloud's rival (PBX Services) lead to the creation of extension's new market. [Basis / Mobile Extension Market], [Smartphone Extension Market] and [SaaS / Business Enterprise Extension] serve as the bases of advertising.
Basis / Mobile Extension Market
Evolution in the Mobile Market along with the New Market, introduction of Corporation Market, start of full-scale rise in the FMC Market, existing Business Phone, creation of Mobile Phone Virtual Extension, Sales Channel / PBX Vendor / Gateway Vendor's new provider and the introduction of Collaboration Maker Network.
Smartphone Extension Market
Evolution of smartphones with the introduction of MVNO: the west boasts its overwhelming share on smartphone development. In Asia, this Market is currently expanding and worldwide cloud PBX service contributes in creating extension for smartphone inside and outside the country.
SaaS / Business Enterprise Extension
Establishment of LOW COST and SIMPLE call center with the introduction of Call Center Application, CRM Application Market along with SaaS Vendor and Application Vendor. Influenced by advertising, information dissemination with Saas Market and interactive communication.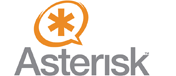 Asterisk is becoming the world's standard Open Source IP PBX software.
Mr. Mark Spencer of Digium, Inc. in the state of Alabama in America
played a central role, and around the world, a large number of engineers
participated in this development. It responds to a large number of Codecs
and Protocol while business is rapidly advancing. Various terminal makers
actively test connections and increase connection terminals.
Management Principle
The people and the people through that "connect", while contributing to the prosperity of society.
Vision
We support customers who order to use the service as a mole, we aim to partner that is trusted by our customers.
Behavioral guidelines
Behavioral guidelines
(compliance)
Think from the standpoint of the customer
(customer first)
If you notice immediately do
(swift)
Origin of the name
Cloco is a coined word made from the cloud Cloud and communication Communication.
Customers who order to use the service support as Kuroko (a stagehand dressed in black who assists the actors), that represents the our intention.